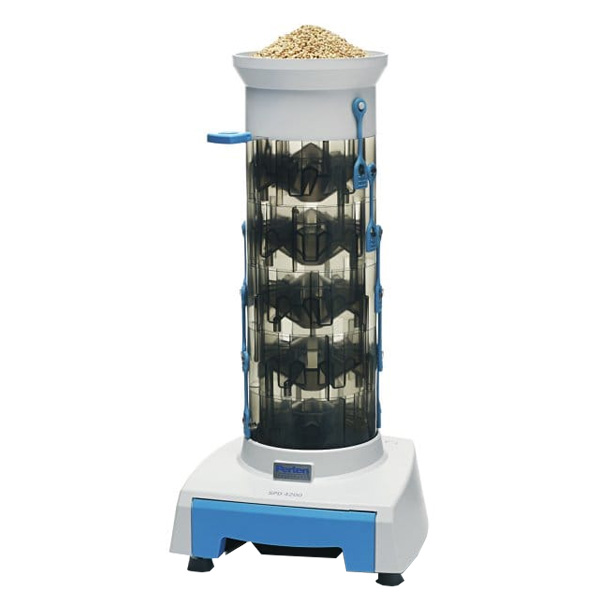 Sequential Precision Divider - SPD 4200
Just about everyone who tests grain needs to divide a larger amount of grain into a smaller, but still representative sample. The SPD 4200 does this faster, easier and better than ever before
Some grain analyses require a very small sample, fully representative of the entire quantity. Sample dividers have been used for this purpose for many years, but the design of older dividers forces users to divide the sample into multiple steps which takes time and influences accuracy. The SPD 4200 single step divider provides a small, representative sub-sample from a larger quantity in less than 15 seconds.
Simply pour the sample into the top funnel, open the shutter to let the sample fall through the divider, and open the tray to retrieve the sample. The system is gravity driven and has no moving parts. The transparent divider sections make it easy to verify that no sample is remaining in the divider removing the risk of sample cross-contamination.
Features and benefits:
Features and benefits
Use the SPD 4200 for sub-sampling for mycotoxin testing, performing visual grain inspection, performing malt germination tests, or any other application where a small representative sample is required.
Fast
In one single step and only 15 seconds you get a fully representative sub-sample, 3.125% of the original sample size - ready to use for a variety of tests and analyses.
Easy to use
Simply pour in the sample and let it fall through the divider by gravity. Confidently used by non-technical operators.
Accurate
The unique design provides a highly representative sub-sample.
Reliable
Simple, robust design with no moving parts or motors provides exceptional instrument life and low cost of ownership.
Flexible
If a larger sub-sample is desired, the SPD 4200 can be used with fewer divider sections and if additional sub-samples are required, run the sample again after removing the first sub-sample.
Compact
Small footprint saves space.
Operation and Handling:
Operation and Handling
The SPD 4200 is very easy to use. Just follow the simple steps shown below. You can also view a short demo video on our YouTube channel.
| | | |
| --- | --- | --- |
| | | |
| Pour the grain into the funnel and open the shutter. | When ready, pull out the tray | Divided sub-sample in measuring cup |
Specifications:
| | |
| --- | --- |
| Size (H x D x W): | 610 x 290 x 290 mm |
| Net weight: | 4 kg |
| Grain types: | Small grains such as Rice, Wheat, Barley, Rapeseed (Canola), Oats |
| Sample volume: | Max 1 liter |