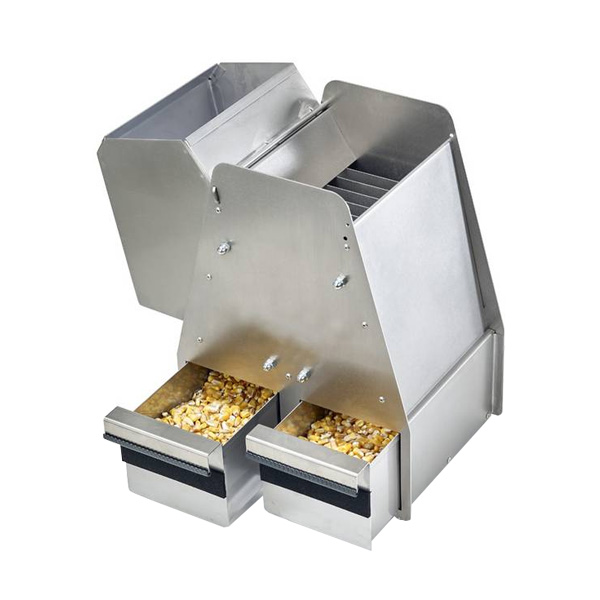 Riffel dividers
Manufactured from stainless steel, no static electricity.
The construction prevents the escape of dust.
The hinged container prevents failure in operation.
The Divider is manufactured without any loose parts.
Operator friendly.
Operation:
Pour the sample into the hinged container and tip. If the sample is still too large, repeat with the contents from one of the drawers.
Available models:
| | | | | | |
| --- | --- | --- | --- | --- | --- |
| p/no. | sample size | hinged cont. | no./splits | dim./splits | weight |
| 1745 0020 | 3 litre | 1 | 10 | 19,2 | 8,0 |
| 1745 0021 | 3 litre | 1 | 18 | 10,3 | 8,5 |
| 1745 0022 | 5 litre | 1 | 18 | 19,1 | 13,0 |
| 1745 0023 | 5 litre | 2 | 18 | 19,1 | 13,0 |
| 1745 0019 | 5 litre | 1 | 34 | 9,8 | 13,5 |
| 1745 0024 | 5 litre | 2 | 34 | 9,8 | 13,5 |
| 1745 0025 | 10 litre | 1 | 10 | 29,0 | 15,0 |
| 1745 0018 | 10 litre | 2 | 10 | 29,0 | 15,0 |
| 1745 0026 | 10 litre | 1 | 18 | 15,2 | 15,5 |
| 1745 0027 | 10 litre | 3 | 18 | 15,2 | 15,5 |
| 1745 0028 | 18 litre | 3 | 18 | 28,2 | 23,6 |
| 1745 0029 | 18 litre | 3 | 34 | 14,5 | 24,0 |