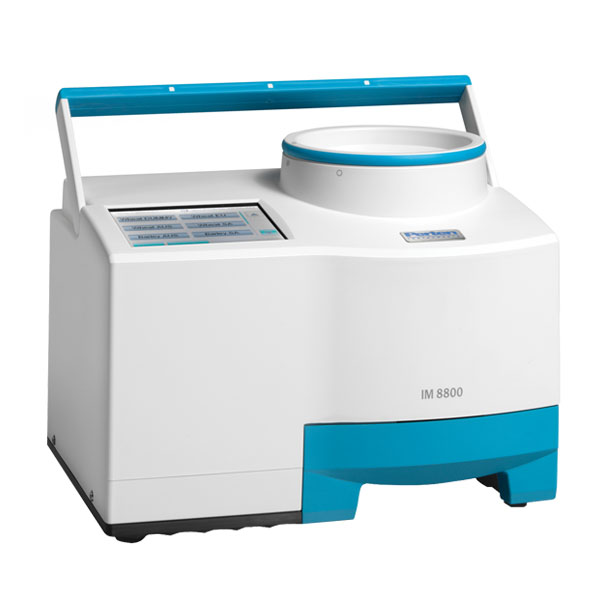 Inframatic 8800 NIR Grain Analyzer
IM 8800 is the next generation portable NIR instrument for protein, moisture and oil determination in grain and oilseed.
The instrument has been designed with portability in mind to give users the freedom to measure grain in-field, at grain storage sites and at grain processing locations. Equipped with GPS enables point specific sampling to generate protein maps on-the-go to make informed harvesting and binning decisions.
With uncompromising quality and build standards, the instrument provides you with highly accurate data which you can rely on.
Features and benefits
Designed for farm conditions, this rugged meter is ideal for testing grain for moisture, protein, and oil. An automated shutter protects the tester from light, insects, and vermin to ensure reliable, a low maintenance operation for years to come.
Portable – Compact, light enough to hand carry and powered by 12V to 24V, or battery (up to 2 hours), the Inframatic 8800 goes with you where you need it most: in the pickup truck, in the cab of the header and to the silo. The standard carrying bag protects the IM 8800 and is useful for transporting the instrument to inspection sites, fields etc. It's also useful for long-term, protective storage of the instrument after harvest.
GPS – The Inframatic 8800 is equipped with a GPS so you can create protein maps of your fields. Make fast harvesting and binning decisions to manage your grain quality.
Protein maps allow farmers to extract additional profit by identifying pockets of premium grain. Topography, fertilization, and run-off are known to cause variation in protein content within a field. The Inframatic 8800 helps you get the most value from the grain you are already producing.
Moisture testing in ground wheat using the optional Moisture Module allows grain traders to use correct moisture value when performing Falling Number analysis. This improves the accuracy of Falling Number results.