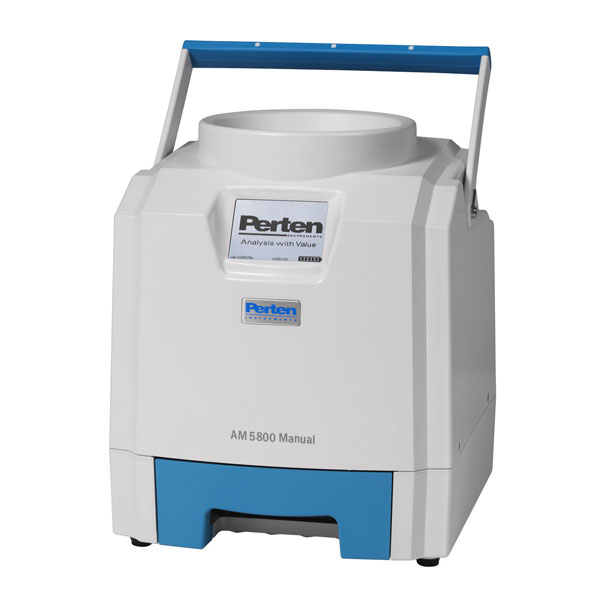 AM 5800 Manual Grain Moisture Meter
Unique among portable moisture meters, the AM 5800 Manual is based on the same high frequency 150 MHz technology and UGMA algorithm as officially approved meters, including the Perten AM 5200-A.
Drawing on the experience from more than 5,000 installed moisture meters, we have designed a battery operated, portable moisture meter benefitting from the accuracy, repeatability, and reliability of the AM 5200-A.
The higher frequency signal provides greater penetration of samples and the UGMA (Unified Grain Moisture Algorithm) provides a more accurate result regardless of moisture level, temperature or crop type. Together these make the AM 5800 Manual the most accurate and repeatable portable moisture meter available. It can analyze grains, oilseeds, pulses, beans, lentils, seeds and more for moisture, Test Weight/Hectoliter Weight, and temperature with the same calibrations as the officially approved AM 5200-A.
Features and benefits
Accurate
Thanks to high frequency 150 MHz technology and the UGMA algorithm you will get accurate readings, also on grain straight from the field or the dryer. Measurements are aligned with the officially approved AM 5200-A.
Easy to use
No sample weighing or volume measurement is required. Just pour the sample to fill the hopper and pull the handle to start the analysis. The AM 5800 Manual takes care of the rest.
Repeatable
Excellent repeatability thanks to precision mechanics and advanced signal processing.
Rapid
In less than 20 seconds accurate readings for moisture, Test Weight and temperature are presented on the display.
Portable
Powered by 2 AA batteries and weighing only 5 kg / 9lb you easily bring the AM 5800 Manual to where you need it.
Smart interface
The touch screen with an intuitive user interface makes the AM 5800 Manual simple to use. Input sample IDs, view results on a remote screen and update through Bluetooth. The touchscreen uses resistance technology and will even respond to gloved hands.
Specifications
| | |
| --- | --- |
| Products | Grains, oilseeds, pulses, lentils and more |
| Parameters | Moisture, specific weight (hectolitre weight/test weight) and temperature |
| Analysis Time | ~ 15 seconds |
| Display | 3.4" touch screen |
| Connectivity | Android and Win App for use on smartphones, tablets, and PC connected to Bluetooth® |
| Measurement Technique | RF dielectric constant at 150 MHz |
| Sample Temperature | -18 to 70° C / -4 to 160 F (moisture <18%); 0 to 70° C / 32 to 160 F (moisture >18%) |
| Sample Size | 700 ml / 2/3 quart |
| Power Requirement | 2 x AA Alkaline batteries |
| Dimensions HxWxD (mm/inches) | 338/13.3 x 274/10.8 x 290/11.4 |
| Net Weight (kg/lb) | 5/11 |