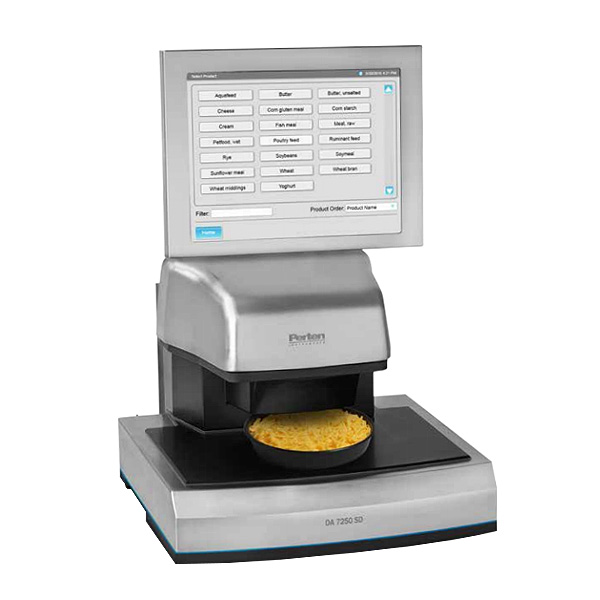 DA 7250 NIR Analyzer
The DA 7250 NIR analyzer is the third generation diode array NIR instrument from Perten, designed specifically for analysis in the food and agriculture industries.
It combines outstanding analytical accuracy with speed, ease of use and ruggedness. The DA 7250 comes pre-calibrated for a wide range of applications and determines moisture, protein, fat and many other parameters in all types of samples.
Anything - Analyze all types of samples from powders to pellets, liquids, pastes, and slurries
Anywhere - Rugged IP65 certified design for use at-line or in the lab
Anytime - Never wait to get results, 6-second analysis without sample preparation
Anybody - Trained chemists or factory staff, everyone will confidently use the DA 7250
DA 7250 NIR instrument overview
The DA 7250 is the 3rd generation diode array based NIR instrument from Perten. It builds on the success of its predecessors which are used by close to 2,000 customers worldwide.
Many applications
The DA 7250 NIR Analyzer analyzes samples in only 6 seconds and can determine moisture, protein, fat, ash, starch and many other parameters with excellent accuracy. Available factory calibrations cover a wide variety of products and parameters and are built from our global database which encompasses hundreds of thousands of samples.
Easy to use
It's very easy to analyze a sample. In most cases just pour the sample into an open-faced dish, place it in the DA 7250 and it automatically starts the analysis. Results are presented on the large touchscreen. The instrument is fully stand-alone and no external computer is needed.
Minimal sample preparation
Where other NIR instruments require that samples are ground or homogenized prior to analysis, the DA 7250 accurately analyzes samples as they are, minimizing the time from when you take the sample until you have the result. Grains, flakes, pellets, powders, pastes, slurries and liquids are all analyzed as they are without the need for expensive modules.
Accurate and rugged
The DA 7250 is based on diode array technology which is accurate, robust and proven. In diode array technology there are no moving parts and this makes the DA 7250 very suitable for challenging environments as it is not sensitive to vibrations or temperature. It is also IP65 certified which means it is dust and water-proof.
Key features - DA 7250 NIR analyzer
The DA 7250 gives you faster and more accurate results and makes analysis easier than ever before.
6-second analysis
The DA 7250 analyzes a sample in only 6 seconds. Its rapid analysis and minimal requirement for cleaning between samples give the DA 7250 an analysis capacity which is 4-5 times higher other NIR instruments.
No grinding or homogenization of samples
Thanks to its large light spot and real-time analysis of a rotating sample, the DA 7250 analyses a much more representative sample than other instruments do, and can accurately analyze inhomogeneous samples as they are.
Lab and At-line use
The DA 7250 is built for challenging environments.
Its IP65 certification means it is dust and waterproof
Diode array technology uses no moving parts in the optics and is unaffected by vibrations
The spectrometer is temperature stabilized and provides accurate results from 5-40C
Stand-alone instrument
The DA 7250 is a stand-alone instrument and does not require an external computer. External computers often experience communication issues with instruments, and can't be placed in the dusty or dirty environments that the DA 7250 excels in.
Factory normalization
All instruments are normalized at the factory, in an advanced procedure where the wavelength scale and absorbance scale are standardized to make individual units identical to each other.
Automatic self-tests
The DA 7250 automatically performs several self-tests and diagnostics to ensure that it always performs optimally. The wavelength scale is confirmed using a built-in Xenon lamp which emits light at 7 exact wavelengths, and the absorbance scale is checked using a Teflon-coated ceramic reference flag. As the DA 7250 is so rapid, self-tests can be performed before each analysis, making the DA 7250 a more stable analyzer than other NIR instruments.
Easy to use
The straight-forward sample handling and the intuitive user interface mean that anybody can operate the DA 7250 confidently, and get accurate results.
Large touch screen
The large touch screen lets operators clearly see results even from a distance, and makes it very easy to operate the DA 7250. The screen is rugged and is designed to be used also in process environments.
Feature rich software
While the user interface is intuitive and easy to use, it also incorporates a number of powerful features such as report generation, result display options and data integration with other applications.
Plug & Play devices
Windows-enabled USB devices such as memory sticks, barcode scanners, printers are supported by the DA 7250. Unlike other manufacturers, we don't limit you in your choice of devices. Just plug your device in and start using it.
Data connectivity
Analysis results are often needed somewhere else than where the instrument is placed. The DA 7250 can export data in a multitude of formats and can be configured to automatically exchange data with other applications.
Web Reporting
Using our optional Web Reporting feature results from one or several instruments can be accessed from anywhere, through a web browser. There are many potential uses: a purchasing manager can pull out reports on incoming materials; a production manager can track key process parameters over time; a lab manager can monitor NIR performance vs reference methods. Several report templates are available, and results are shown in tables as well as graphs.
Same platform as On-line
Diode array is the only NIR technology which is suitable both for benchtop analysis and process analysis. Our online and in-line NIR instruments use the same platform as the DA 7250, which means the seamless transfer of calibrations.
ISO 12099 compliant
The DA 7250 supports the procedures described in the ISO standard 12099 on the development and validation of NIR calibrations and is completely compliant with the standard.
Operation and handling - DA 7250 NIR
The DA 7250 was designed in cooperation with customers with the goal to create the most easily operated NIR instrument on the market. Not just because this makes work easier for operators, but because it matters for performance.
The easier an analysis method is, the fewer mistakes you make, and the better your accuracy will be.
The analysis starts automatically, and results are presented in large numbers after just a few seconds. The video clip below shows the sequence in real-time. That's how quick and easy it is!
Remote reporting and administration
Our NetPlus software package makes analysis results available everywhere, and the administration of groups of NIR instruments easier than ever before.
NetPlus Reports is a web-based reporting software which gives web-based access to analysis results. Wherever you are you can always access updated analysis results. Monitor production, evaluate supplier performance, or verify product quality - on the fly!
NetPlus Remote is designed for remote administration of groups of instruments. Whether you manage just a few instruments or a NIR network of one hundred instruments, NetPlus Remote streamlines your tasks.
Applications - DA 7250 NIR instrument
The characteristics of the DA 7250 NIR analyzer make it ideal for a wide range of applications. Grains, pellets, pastes, powders, and liquids are all analyzed in only 6 seconds.
Below are examples of applications the DA 7250 NIR analyzer is used in.
Feed Milling
Use the DA 7250 NIR instrument to analyze ingredients, in-process samples and finished feeds for parameters such as moisture, protein, fat, starch, energy, fibers and amino acids - all without having to grind samples.
Verify incoming ingredients against specifications
Get true nutritional values for ingredients, and improve formulations
Optimize fat, protein, and moisture in your process and save money
Oilseed processing
With the DA 7250 NIR instrument, you can analyze for moisture, oil, fatty acids, protein and other parameters in oilseeds, meals and oil. No grinding is required for oilseed analysis, not even for sunflower seeds.
Test seeds at intake to pay the right price
Analyze meal to optimize extraction, drying and blending
Determine FFA, phosphorous and more in oil
Flour Milling
The DA 7250 NIR instrument lets you analyze wheat and flour for moisture, protein, ash and more. It provides top accuracy in a rugged, IP65 rated housing. Place it anywhere in the mill for immediate analysis results.
Test wheat at intake and during tempering
Optimize ash content with rapid and accurate analysis
Analyze co-products such as bran or middlings
Petfood production
Whether you produce wet or dry pet food, the DA 7250 NIR instrument will analyze ingredients as well as finished petfood for moisture, protein, fat and more. Little or no sample preparation required, minimal cleaning between samples.
Analyze the nutritional value of ingredients
Optimize production
Verify end-product quality
Seed breeding
The accuracy and speed of analysis make the DA 7250 ideal for seed breeding companies and institutes. Analyze any type of grain or oilseed for standard parameters such as moisture, protein and oil, and specialized traits such as fatty acid profile or amino acid levels. Thousands of samples can be analyzed in a very short time, and any size sample can be analyzed - from just a few grains to 500 ml. Several of the leading institutes and companies worldwide use the DA 7250.
Ethanol production
Many ethanol producers have been able to increase output and lower costs thanks to the DA 7250 NIR instrument. Raw materials, fermentation samples, and by-products are all analyzed in just a few seconds. Instead of waiting half an hour for HPLC results you can get an instant analysis of HPLC parameters in fermentation samples.
Dairy
Analyze cheese, butter, milk, cream and powders with no sample preparation and no clean-up after analysis in the DA 7250 NIR instrument. Using the disposable cup system, the sample is simply placed in a plastic cup which is disposed of after analysis. This makes the DA 7250 extremely rapid and easy to use. Its accuracy makes it possible for you to control production to very tight limits.
Other Food
The unique sample presentation and the speed of analysis make the application possibilities nearly limitless. Snackfoods, potato products, breakfast cereals, and meat products are just a few analysis examples where the abilities of the DA 7250 NIR instrument bring great benefits.
Starch production
The flexible sample presentation of the DA 7250 makes it possible to analyze both the raw materials and nearly all in-process products as well as end-products. Grains, slurries, liquids, and powders - all are easily analyzed in the DA 7250 NIR instrument.
DA 7250 SD NIR Food Analyzer
The DA 7250 SD is designed for placement in labs and production areas where sanitary designs are required.
The sanitary design limits surfaces, crevices and other locations where food material could adhere. This makes it easy to clean, thereby reducing opportunities for microbial growth.
Its stainless steel design and open analysis area make it ideal for use anytime hygienic or cleaning requirements are high, such as in food production environments, in dusty or dirty conditions, or when samples are messy.
The DA 7250 SD is IP65 certified and uses the same optics and calibrations as the standard DA 7250 model.
Accessories for NIR analysis
The DA 7250 is designed to analyze samples as they are. With these sample presentation accessories, nearly every type of sample can be analyzed with little to no sample preparation, and minimal instrument hardware changeovers. Changing from solid to liquid analysis, for example, takes only a few seconds.
Small Sample Dish

When smaller volumes are available, the Small Sample Dish is an excellent way to present your sample to the DA 7250. The Small Sample Dish is suitable for applications such as grains, ground forages, and other agricultural products. It comes in a package of three dishes with volumes of 13, 22 and 43 ml respectively (US liquid oz. 0.44, 0.73 and 1.47).

Micro Mirror Module

When only a few grains or grams are available, the Micro Mirror Module is ideal. Its unique design (patent pending) enhances the signal from very small samples and enables highly accurate analysis.

Disposable Cup Module

Designed to handle slurries, pastes and opaque liquids. The Disposable Cup Module completely removes the need for cleaning between samples.

Clear Liquid Module

Designed for analysis of water-based liquids. A small amount of the liquid (< 1 ml) is administered to a filter pad. After analysis, simply remove the filter pad and prepare for the next sample. The filter pad provides a diffuse surface with constant pathlength.

Transflectance cup

This unique cell for analysis of liquids such as oils makes analysis rapid, accurate and easy. Simply administer the sample using a pipette and place it in the instrument. After the analysis, pour the sample out and wipe the cell off with a chem wipe or similar. The cell is made of non-stick Teflon which makes it easy to clean, with a gold layer underneath which provides diffuse reflectance of light back to the instrument.

Syrup cup

The Syrup Module is an accurate, easy-to-use accessory for NIR analysis of syrups and other high viscosity products. Pour your sample into the center area, strike-off excess into the outer ring and start the analysis. Clean-up consists of rinsing under warm water.

Closed Quartz Cup

The Closed Quartz Cup allows for analysis through a fused silica surface. While there are many good reasons for analyzing samples in open-faced dishes, this cup accessory is useful for users accustomed to analysis with closed cups.

Half-depth Dish

The Half-depth Dish is recommended for use whenever sample volume is limited and the sample is inhomogeneous. In such situations, results will benefit from the analysis of a large sample area.

Petri Dish

Disposable Petri dishes can be used as sample accessories, in combination with rotating carriers. Petri dish carriers are available in large and small versions, for use with both 140 × 21 mm and 90 × 16.2 mm disposable Petri dishes.