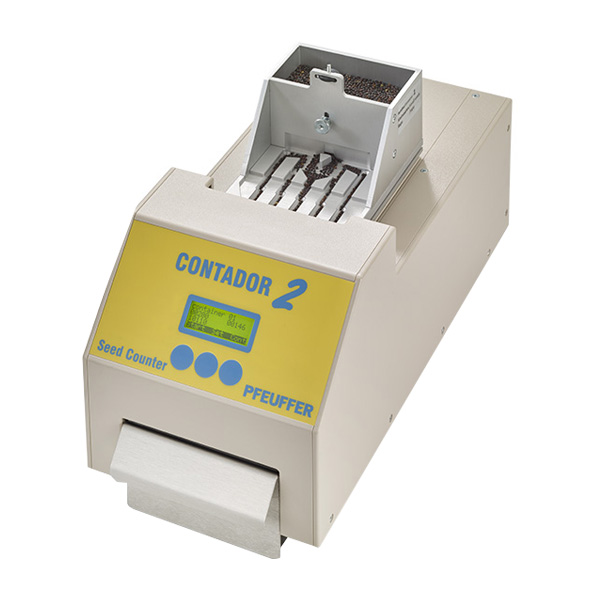 CONTADOR 2
High-speed counting and filling
Counting speed of up to 5000 grains/min
Compact design
Compatible with filling station Contafill 2
Fully controllable via PC software
Removable feed containers for rapeseed and cereals
Robust and reliable in operation
Counting and filling of small seeds and cereals
with five parallel counting channels
Increase the efficiency of your counting processes
Field of application
The Contador 2 is a newly developed instrument which is based on the practical experience with the renowned seed counter Contador.
The proven handling of the feed containers, the short feeding distance, and the high counting precision are now complemented by a considerably higher counting speed.
With the traditional Contador it took you approx. 90 s to count 1000 rapeseeds, with the Contador 2 this only takes you 12 s. Feed containers for small seeds (no. 1) or cereals (no. 2) allow a fast and flexible use for different seed types.
This concept permits a fast change of samples without having to empty the counting channels.
Operation
The feed container is placed onto the Contador 2 and the sample is filled in. The instrument automatically recognizes the container and loads the optimal parameters.
After defining the counting quantity, a magnet holds the feed container and a vibrating element causes it to oscillate. A specially developed algorithm ensures an optimal feed rate to guarantee a high counting speed and precision.
Counting parameters and feed rate can also be set individually and saved in an individual configuration.
The container is designed for a volume of 250 cm³. This corresponds, for example, to approx. 35,000 rapeseeds. The version for wheat (270 cm³) has a capacity of approx. 4,500 grains.
Design
Thanks to the light and compact plastic housing, the Contador 2 is very flexible in its use. Feed containers, counting channels, and feeding plate are made from anodized aluminum.
For bigger sample quantities, an automatic sample feed is optionally available.

The Contador 2 is equipped with a serial RS232C and a Contafill interface to which the filling station can be connected.
PC Software
The software SeedCount together with the filling station Contafill makes it possible to fill sample series. The number of bags, as well as the number of grains, can be defined in the mode "count manually".
The automatic mode uses XLS tables which make it possible to complete heterogeneous counting lists within a very short period of time.
A label printer can print details like the test location and the number of grains. The operator only has to detach the bags, attach empty ones and apply the corresponding labels. The request to change the original sample is confirmed directly at the PC by the operator.
Technical data
Power supply
230 V / 50 Hz (24 V)
Dimensions
375 x 168 x 185 mm
Weight
4.5 kg
Container volume:
No. 1 rapeseed: approx. 250 cm³
No. 2 cereals: approx. 270 cm³
Counting speed
| | | | |
| --- | --- | --- | --- |
| crop | seeds / minute | Time/1000 pcs. | Precision |
| rape seed | 5000 | 12 s | 0.3% |
| cereals | 2500 | 24 s | 0.3% |
| | | |
| --- | --- | --- |
| crop | bags / minute @ 1000 grains)* | time |
| rape seed | 3 | 20 s |
| cereals | 2 | 30 s |