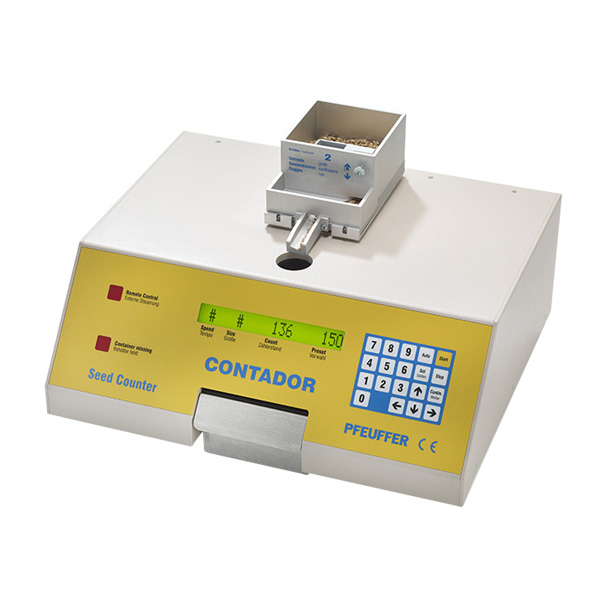 Seed Counter Contador & Contafill
Count and Fill all seeds from 0,3 mm up to 15 mm
High counting speed
Precise count
Easy to use
Quiet operation
Flexible
Principle
The feed container is held in place by an electromagnet and vibration induced during counting. The material to be counted reaches the outlet and falls into the receptacle through a photoelectronic counter.
Microprocessor Engineering for User-Friendliness
The Contador selects its counting speed automatically depending on the size of the material to be counted. This guarantees optimum use of the counting capacity and reduces counting time to a minimum whilst maintaining count accuracy. Shortly before counting is completed the CONTADOR reduces its counting speed so that no more seeds are counted than have been preset. Counting speed may also be manually adjusted. The instrument can recognize when the receptacle or the feed container is absent, stops counting and reports the fact on the display so that no operating faults occur. Particles which are significantly smaller in size are not counted. Thus, for example, rape seeds in a sample of peas drop into the receptacle without being counted. By manually adjusting the seed size it is possible to control the counting of particles.
Display
The display shows in automatic mode the preset quantity and the count so far. In manual mode, it also shows the counting speed selected and the seed size. The keyboard is used to select various modes of operation, such as summation counting and differential counting.
Feed Containers
no. 1 for rape, seeds, and small seeds. no. 2 for cereals, sunflower seeds and rye and no. 3 for maize, field beans, and peas.
Technical Specification
| | |
| --- | --- |
| feature | dimension |
| Voltage: | 230V, 50/60Hz (on demand) p/no. 1410 0009 Contador "E" |
| | 115V, 50/60Hz (on demand) p/no. 1410 0010 Contador "E" |
| Dimensions: | 430x235x380mm (LxHxW) |
| Weight: | approx. 16 kg |
Accessory: CONTAFILL
Count and fill a number of seed bags without labor.
The semi-automatic filling station is additional equipment for the seed counter CONTADOR.