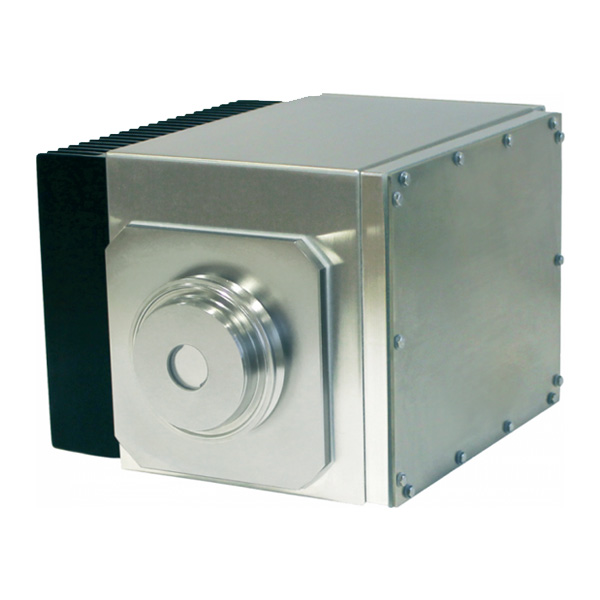 In-line NIR sensor - DA 7300
The DA 7300 In-line NIR Analyzer is an advanced, modern NIR analyzer for use in Grain, Flour, Food and Feed processing.
It provides real-time information about the product as it is produced. Immediate access to this information, without having to wait for laboratory measurements, provides a number of advantages:
Enables automatic process control
Allows immediate manual intervention.
Faster start-up and grade changes
Complete traceability of the entire production
Instrument Overview
The DA 7300 is an in-line NIR instrument that provides results through industry standard communications interfaces.
The measurement readings may be displayed on either a dedicated PC with user interface software or be fully integrated in existing plant control and quality management systems. The instrument is specifically designed to measure inside a chamber or vessel. The optical front end protrudes through the wall of the chamber, and the product is presented to the instrument. The design makes the instrument suitable for measuring powders, grains, granules, pellets and similar as the product is conveyed through a process.
Features and benefits
Diode Array technology
Diode array technology offers several important advantages:
- Measures all wavelength simultaneously. When the product is moving, this becomes a really important advantage over older technologies. The Diode array measures all wavelengths over the entire spectra simultaneously, just like a digital camera takes an image. Other instrument technologies, including scanning monochromators, Spinning filter wheel instruments and FTNIR, measures the wavelengths sequentially. With the product moving, this equates to measuring one wavelength on one part of the product and the next wavelength on another part of the product. Therefore, the Diode Array technology is the most suitable for measurements on moving products.
- High performance with a high signal-to-noise ratio
- Fast
- Low maintenance
The instrument is fitted with a scratch-resistant sapphire window. This prolongs lifetime, enhances measurement performance and avoids regular service visits.
Industry standard communications interface
In order to integrate seamlessly to existing control systems, the instrument is equipped with an OPC server. All communication between the instrument, control system and any other systems can utilize this.
Open Information architecture
The data is available for access in an SQL Server database.
Camera
The color camera brings several benefits:
- Measures Colour parameters L*, b* and a*
- Detects dark spots in flours, semolina, and other powder products
- Provides images and live video for operators peace of mind as well as troubleshooting
- Detects when the product is moving or stopped
Dual lamp with automatic switch-over.
Long term stability
In order to avoid downtime and costly rush repair jobs, the system is fitted with dual lamps. Once the primary lamp reaches the end of its working life, the second lamp is automatically put into operation in a seamless transition.
Internal reference measurements ensure long-term measurement stability
Intra-instrument agreement
A key to successful implementation is that all instruments, be it in the same factory or on different sites, actually measures the same values. One key feature in achieving this agreement is the dynamic wavelength axis stabilization. This feature is included with all our DA instruments and significantly enhances calibration transfer performance and measurement agreement between the laboratory and the on-line instruments.
Rugged design to suit production environments
The instrument is designed and built for long life and trouble-free operation in the harsh environments that sometimes exist in production facilities. With a high level of ingress protection, a vibration resistant design and with explosion classifications according to ATEX and IECEx, a suitable installation point can be found in most operations.
Serviceability
The instrument is designed to be easy to service. This includes easy access to parts, a modular design that is easy to troubleshoot and clear, unambiguous warning and error messages.
In order to improve the serviceability and thereby reduce maintenance costs and downtime, the instrument offers a range of diagnostic tools, including
- LED indicators on the back for status messages
- Log-files for warnings and errors
- Remote access through standard Windows tools for software updates, maintenance, and troubleshooting
- Easy access to consumable parts
Applications
Measure granules, pellets, powders, pastes, syrups, flakes, liquids and more. The most commonly measured parameters are moisture, protein, ash, fat/oil, fiber, and starch.
Many options are available for mounting – all designed for specific uses and products. The DA 7300 can be mounted on pipes, hoppers, conveyors, mixers, at the entrances of a product, at its outputs, before or after dryers, before packaging or at other critical points in the process.
The DA 7300 is installed and used at many agri-food production sites worldwide. These are a few examples of its applications.
Flour Milling – Maximize flour extraction through accurate real-time ash measurements. Blend wheat and flour streams to reach target specification. Optimize gluten addition.
Starch Production and Corn Milling – Cost and energy savings by monitoring and controlling the dryer, constant product quality and higher output by protein control loops and avoiding quality giveaways.
Oilseed Processing – Measure moisture, protein and oil in grain for pricing and binning. Monitor and optimize extraction and drying. Control moisture & fat in the mixer. Higher productivity by increasing yield and avoiding faulty batches and rework. Control moisture loss in cooling and additions of molasses/oil.
Dairy Processing – Reduce energy costs when spray drying milk powder by monitoring product moisture in real-time. Minimize grade change-over time and reduce waste; monitor black particles. Optimize the fat /moisture content of butter. The DA 7300 is USDA approved for installation in dairy processing plants.
Official approvals
The DA 7300 In-line NIR has received a number of official approvals and certificates.
USDA Dairy Letter of acceptance for measurements of milk and milk products. Read more.
ATEX Certificate
Technology
No moving parts
Diode array technology is unique in the sense that it doesn't use any moving parts in the spectrometer. This greatly improves the stability of the instrument as there are no parts that can be worn out or misaligned. The result is an instrument which requires much less maintenance than when moving parts are used, as for example is the case with scanning monochromators.
A lamp illuminates the sample with white light. Some of the light is absorbed (depending on the composition of the sample) and the rest is reflected.
The light which is reflected hits a stationary grating, which separates the light by wavelength. Instead of white light, we now have a "rainbow".
Each wavelength is measured by a dedicated detector.
All wavelengths simultaneously
With diode array technology all wavelengths are measured simultaneously, as each wavelength has a dedicated detector. This is necessary in order to be able to analyze a moving sample. Using scanning monochromator technology or Spinning filter wheel, the spectrum is collected one wavelength at the time, and if the sample moves the picture will be blurred.
Line Source Wavelength stabilization
In all optical systems, microscopic mechanical movements occur over time and with temperature changes. These small movements give rise to changes in the wavelength scale and alignment. In order to achieve long term stability, it is imperative to correct for any such changes dynamically. In the DA 7300 On-line, this is done using a line source which brings the wavelength axis back to the starting point. The benefit of using a line source is that this emits light with peaks at certain wavelengths. The position of these peaks depends on the line source used and is constant with that material. This gives unsurpassed wavelength axis accuracy and long-term stability.
Dual lamp with automatic switch-over.
In order to avoid downtime and costly rush repair jobs, the system is fitted with dual lamps. Once the primary lamp reaches the end of its working life, the second lamp is automatically put into operation in a seamless transition.
Specifications
General

Power Requirements:
Dimensions (HxDxW):
Net Weight:
Operating temperature range:
Ingress Protection:

24 VDC, 5 A
220 x 230 x 340 mm
15 kg
-10 to 40°C. Increased temperature range with optional cooling.
IP65

Analysis

The speed of measurements:

>20 spectra and measurements/second

Spectrometer and Optics

Wavelength range:

950-1650 nm

Internal Computer

CPU type and speed:
RAM:
Internal storage:
Operating system:
Connectivity:
ATEX:

1 GHz Pentium M ULV
1 GB
SSD disc, 60 GB primary storage
Windows 7 Professional
TCP/IP over LAN 1/10 MBit
Zone 21/22. ( Window area classified for zone 21, the instrument housing for zone 22 )